Employee Engagement
To build a sustainable workforce, it is important that employees feel valued by the company. Our continuous strive at Reliance General Insurance Company Limited is to create an engaging and healthy workplace where employees enjoy coming to work, connect with their peers, understand how their work contributes to the organisation and feel inspired to give their best.
Sports And Wellness
R-Health Circle
Go-Fit
Reliance Cricket Champions League
Fitness Friday
R-Health Circle
An online platform based on the 3E's of Wellness i.e. Evaluate, Engage and Earn that encourage employees to adopt a healthier lifestyle and earn points for it which can be redeemed at outlets like Flipkart, Amazon, Nature's Basket, MakeMyTrip, etc.
Go-Fit
Reliance Cricket Champions League
Fitness Friday
Fun at Work
CEO Webcast
Reliance Runner's League is a wonderful initiative which keeps motivating the novice and the experienced to continue running for fitness and health. It promotes very high-levels of appreciations for personal achievements from group members. I am sure this would generate a lot of momentum for a larger section of our colleagues to embrace a culture of fitness and fun. My motto is to relax and run.
– Amulya Dash
Every year the Reliance Runner's League has brought the best out of us. Many of us have realised our potentials, happiness and change in overall character after taking up running. Reliance Runner's League (RRL) has most importantly shown how you can push the limits when you give up! Bringing in members from all Functional Teams across India, it has helped every member to learn and regular runners to bring out their Best Performances.
– Chitra Bhosle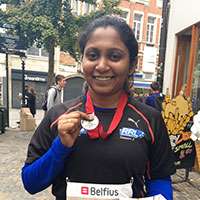 *The employee manual will serve as a guide to the complete benefits provided by Reliance General Insurance Company Limited. The information contained here is only a summary of the terms and conditions. Initiatives and Policies are subject to change without any prior notice. Please refer the employee manual for more information.